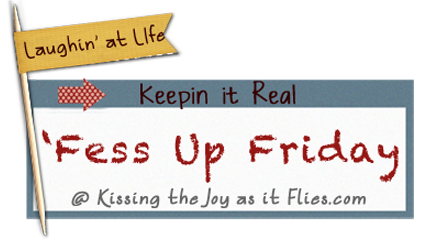 It's Friday, it's Friday... I'm so excited! Oh. Wait. I've got an inclement weather make up day tomorrow. Ugh. Oh well. Only 15 more days of school, and 17 more days of duty and then... SUMMER. Then 2 more weeks and then... MARRIAGE. Eek. Time is flying and crawling at the same time. It's kind of like when I was little and Christmas seemed to take
forever
to get here, but it's different.
*sigh*
Oh well, on to the 'fessions. :-)
I am in love with a book written for kindergarteners.
Isn't it cute?!?!? But why, you may ask, is this a confession?
Because I don't have children.
Along the same lines, I started a book by one of my favorite British authors on my birthday (in March). I still haven't finished it (or the other 2 books I bought with it) because I'm too busy reading books that were written for little kids. See the following:

Exhibit A
Exhibit B

And the slighty less embarassing because it has more than 10 pages,


Exhibit C
I played Scrabble with

Amanda Jo

last night. I won. By like, 30 points.

We're hanging out again on Saturday. I probably should not have bragged about beating her because pride comes before a fall.

Not sure if this counts as a confession, but I wanted to brag, pride fall or not.

I was in charge of bringing the snacks to Amanda's last night, I was really good and brought carrot and celery sticks. Then this morning, I went to the donut store. Oops.

I tried to say "phooey' and "poop" at the same time, in reaction to something not fun that had happened. I don't remember why I said it, I just know that when I tried to combine "phooey" and "poop", I got "foop"
I don't even wanna know what "foop" would look like.

I had to edit this post 3 times because I kept forgetting things I needed to put on here, like the "Fess up Button". The last time I had to click the "Edit Post" button, it was because I forgot to add that I had had to edit the post 3 times. Blah
I think that's all I've got for today. I'll add more if something else occurs to me. Have a great weekend everyone! And hug your momma. She deserves it, I know mine does!