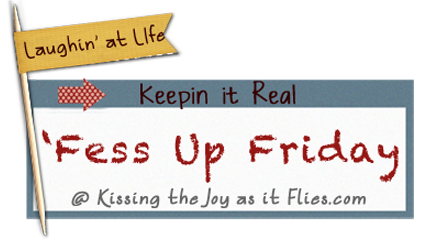 It's Friday! Blogger has been down all day and I've been so sad. But now it's back ond the world is right again. What a crazy week. Two more weeks of school and I'm getting antsy. 10 more days. There is so much to do! Between running inventory and trying to make sure all of the books come back and get repaired and shelved and trying to control the kiddo's in the cafeteria, I'm surprised I haven't lost my mind yet.
Added to that is the fact that my wedding is 4 weeks from tomorrow, and I've still got to send thank you cards for shower gifts, re-send the invitations that came back with an incorrect address, decide how I'm going to wear my hair, pay the florist, choose a punch recipe, and a dozen other things.
Woot. Gotta love being busy. Welp, on to the confessions.

I led worship for evening service last Sunday. I wore a cute white skirt and a brown top with a pastel-melony colored cami. I was trying really hard to focus only on God while I played and sang, but all of a sudden, I started feeling this trickle of sweat run down the back of my leg, and all I could think about from that point on was, "Lord, please don't let anyone see!"

I've recently discovered that I have a mild lactose intolerance (as if I needed something else to add to my nerd factor). This week I decided to try removing dairy from my diet to see what happened. I posted that I was removing dairy from my diet on Facebook, after which I noticed that the ads that run on the margins of the page had changed from wedding-themed to soymilk and ice-cream. Not sure how those two go together.

I had two more things to add. I was thinking about them last night. I thought, "Oh yeah, I can't forget about these. I've got to remeber so that I can post them for Fess Up Friday...." Guess what. I forgot.
Sorry that's all I've got. I've got a shower for me this weekend, a shower for someone else and a wedding next weekend, a shower for me the next weekend and I'm getting married the weekend after that. Holy cow time is speeding by. My ringbearer pillow came in! It's a lot bigger than I thought it would be, but oh well.
Still waiting on the cake topper.
I'm really excited. Have a great weekend everyone!