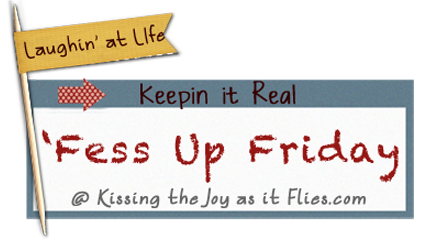 Happy Thursday everyone!!! I'm headed out of town this weekend! We're going to Houston for the
SENT
conference at Champion Forest Baptist Church. It's a conference made to equip believers to live SENT, on the mission field and in every day life. This is going to be the third time I've attended this conference, and I am really excited. It's going to be a really good weekend. Because of this conference, I will not be able to blog tomorrow like I normally do, so I thought I'd just jump the gun and do Fess Up Friday today, even though it's a Thursday. If you are apalled that I would do Fess Up Friday on Thursday, just don't read any more of this blog until tomorrow. Then it will be Fess Up Friday and all will be well. No sweat.
Here we go.
We took engagement photos this weekend. I think you can tell we had a good time, the people walking past us as we took this particular picture were laughing at us. So I thought I'd give y'all the opportunity to laugh too... He proposed without any encouragement from me, I promise!
I am such a loving woman. Matt accidentally rammed "himself" into my knee and while he grunted in pain, what did I do? I laughed.
Hard.
Matt had a piece of pepper stuck in his teeth. So I used my fingernail to get it out. I thought I was preparted for anything (I keep everything but the kitchen sink in my purse) but apparently I forgot the toothpicks. Ugh.
I'm 24 years old and I still love climbing in, on and around trees. This one was hollow. I thought it was super cool. That might be why I got made fun of in high school... Hmm.

I think that'll do it for this week . I'll post some of our engagement photos next week, after I've had time to edit them and choose my favorites. Until then, I'll leave you with one of my favorites. Have a good weekend!